Here's a list of the Agenda features we're currently working on (aside from fixing any issues). We can't tell when it will arrive, but can tell you we have committed to getting them to you in a future update:
Attachments and Adding Images to your Notes
The ability to attach files such as PDFs, photos, Office documents, etc to a note is something we had hoped to add to the 1.0 already, unfortunately it didn't make the cut. We are working on adding this ability to Agenda. As part of the attachments files we also plan to bring support for inline images. Update:

The 4.0 update includes the ability to add attachments and inline images, we couldn't be more happy!
Apple Pencil support
Even before the iOS app was released we already started getting requests for Apple pencil support, it surely is on our to do list! Support for Apple pencil comes in many forms though, don't expect everything at once, we'll probably introduce more and more possibilities over time gradually.
Text editor configuration
We plan to give you more control over the look and feel of the text editor in Agenda, starting with font choice and font size. And more options down the road. Update: The 5.0 update includes the ability to change the line spacing in your notes, yay!
Password Protection
We understand that a lot of the things you enter in Agenda are private and you don't want to others to see. We would like to add the ability to password protect your library. To do this well requires quite some changes under the hood so this one can take a while, but rest assured it is on our agenda.
List manipulation and summaries
More options to work with todo and task lists (collapsible sections, hiding checked items etc), as well as overviews of all checked or unchecked tasks are things we'd like to see as well. In addition we'd also like to add integration with the Reminders app.
Manual ordering of sidebar items and sub projects
We like to keep things simple in Agenda, but as your library of notes grows we do understand you'd like to see more options to organise them the way you want, including arranging projects in the sidebar, ordering notes as you'd like to see them appear On the Agenda and dividing projects into subprojects. We'd like to bring such options but also like to make sure we don't loose the simplicity of Agenda. We also plan to add a trash and ways to archive old projects.
Localization in other languages and Accessibility
We understand that not everyone is comfortable with English, or simply prefers Agenda to be in the same language as their system. We hope to bring localized versions of Agenda soon. Please let us know if you'd like to help us bring Agenda to your favourite language! Similarly, we would also like to improve accessibility of Agenda, let us know if you'd like to help us test and improve this important aspect.
Integration with Reminders and Contacts
Similar to how Agenda integrates with the Calendar, we also like to bring you integration with the Reminders app so you could set reminders for individual paragraphs within your notes. The same holds for integration with the Contacts app where we would like you to be able to link people tags to contacts in your address book.
Collaboration and Sharing
Wouldn't it be great if you could collaborate on and share notes with colleagues, friends, and/or other Agenda users? We think so too and we definitely would like to bring such possibilities to Agenda. This isn't a trivial undertaking though, definitely not on the soon-to-be expected list, but it's on our minds and we have some really exciting ideas in this area. Something you can expect in the more short term is the addition of a sharing extension so you can share text, images, etc from other apps to Agenda.
Other sync solutions than iCloud
Speaking of non-trivial undertakings, many of you have asked for Agenda to support additional sync solutions aside iCloud. For some iCloud is slow, not available, or blocked, and others simply prefer a different back-end for privacy or performance reasons. We fully understand, and rest assured, it's something we'd like to offer down the road. Unfortunately implementing and taking on support for additional services is not easy and comes with a big responsibility. Therefore we can't tell you an ETA or commit to your favorite sync solution yet, other than to say that we are motivated to add at least additional options aside iCloud.
Web app, Windows support, Android?
In the same realm as different sync solutions, we definitely hear you when you say you would love to see a web app, windows, and/or Android version of Agenda. And yes, in an ideal world we would love to give you those. But we also have to be realistic and with the small team we have we have to pick our battles, not just technically (like implementing the above alternative sync solutions as a prerequisite), but also, can we support all these platforms the same way we can on macOS and iOS. This all to say that you cannot expect these in the near future, but we are not ruling out bringing them in the future. Just not right now, because this post already shows we have plenty to do for iOS and macOS first.
What if my favourite feature is not yet on this list?
No worries, it doesn't mean we won't be adding it, neither does it mean that you for sure have to wait until eternity before it shows. This list is just to cover the main items on our list, there's plenty of items (big or small, premium or free) that will arrive without ever having been on this list. But even so, 24 hours a day and all that.
We would like to thank everyone for their continued support and feedback, it's great to have you on board on our journey to make Agenda even better. Stay tuned!
Alex & Drew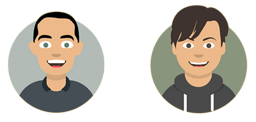 Note that you can't comment on this thread. If you experience issues or would like to tell us about a feature you'd like to add, please continue to do so. However, always check first if the feature has been mentioned already or whether it appears in the Frequently Asked Questions.