Agenda, you (auto-) complete me…
Agenda 14 is by far the biggest update we've done so far. It brings big improvements to tags, new features like autocompletion, a tag browser, back linking, something we call "Actions" and much much more!
Auto-completion is something we wanted to add to Agenda from day 1, and finally the wait is over. If you know us a little you won't be surprised that it's not the standard out-of-the-box autocompletion though, it's much more powerful than that. Yes, it will auto-complete your tags and people mentions, but type a backslash (\) character and a new world of type-able actions and suggestions awaits you, including inserting emoji's, reminders, templates, and links to other notes and projects. The easiest way to describe it is to just show you: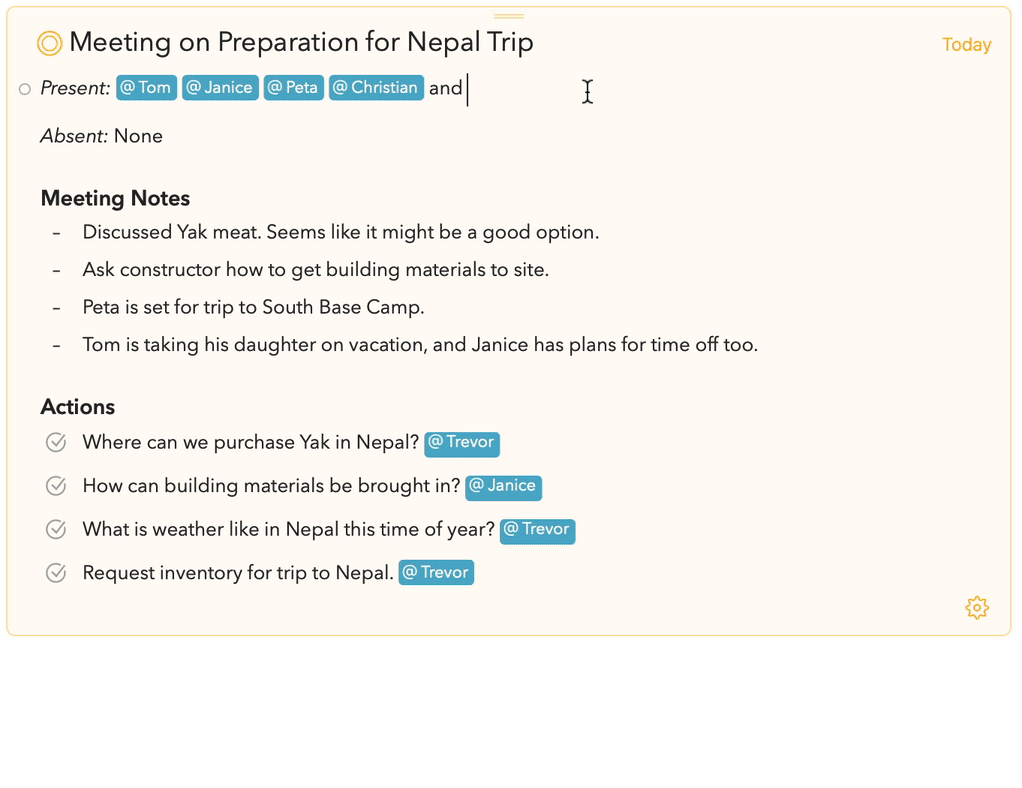 For a complete list of the supported actions, check out the Text Action cheat sheet…
Show it all… in color.
Besides tag autocompletion one of the other most popular requests was a way to see all tags in your library. This is now possible with the tag browser. It allows you to search for tags or create new ones, you can rename tags, or merge them if you have used different variants of the same tag. And there is a quick way to search for a tag in your library or create overviews of one or more tags that appear as a permanent entry in your sidebar.
And to take tags to an even higher level, it's now possible to change their colours using a new premium feature, which is a great way to make important things stand out even more, or to help you prioritize things that need to be done first:
Linking it all together
Tagging notes and creating smart overviews are just two ways of organising your notes. Another way Agenda brings order in a chaotic world of notes is by allowing you to couple related notes using so-called Agenda links. Agenda 14 makes this a lot easier, just type two square brackets and you get a menu similar to the Open Quickly feature introduced in the previous update. Continue typing to find the note or project you are looking for, hit enter and an Agenda link is inserted for you:
Best of all, Agenda will automatically create the so-called backlink, which makes the linked note always appear first when you check the related notes section in the inspector panel on the right. It makes it much easier to quickly move between a set of notes you're focusing on at any moment.
In the zone
Speaking of focus, a nice addition we think you'll like is a new premium feature called recent projects. By clicking the clock icon at the bottom of the sidebar, it filters your projects to only show those that you've recently worked on. It greatly reduces the clutter and allows you to focus on what you work on most.
Drawing to Remember
Another area we made big improvements is for those that love jotting down their notes. If you use an iPad to keep hand drawn notes using an Apple Pencil, you'll like the ability to show lines or grids while drawing:
But you can now also use markup to draw and annotate your PDFs and the result is automatically updated in your notes. In fact, this is now true for all attachments! You can open them in another app, edit and save them, and they're automatically updated in your notes. For example, you can add an excel file to your notes and update it as you go. Agenda takes care of the heavy lifting.
And the list goes on…
And we could just keep going. So many nice additions, so many long standing issues fixed, so many small improvements…
Ok, we'll highlight a few more we think you'll like. What about the additional export options to save your notes in one file, one file per project, or one file for each note, and the added support for the TextBundle format. The new summary feature allows you to quickly copy say all unchecked items on your to-do list, or all items assigned to Tom in your last meeting. We've added a new link editor and automatic fetching of website titles when pasting a link. Agenda now supports iPhone and iPad features like Live Text to use your camera to directly scan text into your note, and contextual menus. There are a ton of improvements and fixes when using Agenda in languages like Korean and Japanese (speaking of which, help us translate! Agenda), and we added the ability to prevent markdown parsing or link shortening. We would be here for a while if we would go through [all of them] (Release Notes - #52 by mekentosj) so better to stop here. As said, it's our biggest update to date.
Completing the Marathon Effort
This update also took us the longest for any update. For a number of reasons: the exciting new features Agenda 14 brings required a LOT of under-the-hood changes and we spent a lot of time working on the editor, which as a result has been much improved and is more consistent. It also meant your notes need to be migrated (done automatically the first time you run the new version) and we needed to make sure that all goes right. It surfaced some performance issues that we needed to address, but the app is now faster as a result. And we already made changes that pave the way for Agenda 15 and beyond. Altogether it made this update a bit of a marathon.
And last but not least, this all took place in a period where the world was just going mad. A terrible pandemic where everything that was normal became things we now appreciate more. Emphasised even further by the events in recent weeks that again stress how fragile things can be. It didn't make things easy at times.
We hope you agree with us that Agenda 14 was worth the wait. We're super excited to finally be able to see this update in the hands of our users, and can't wait to see your reactions.
So be sure to update to Agenda 14 and to check out the YouTube video we made that walks through everything mentioned above that is new:
And if you love Agenda 14 and would like to support our work, the best way to do so is by buying it's premium features. It will give you a great set of additional and powerful features while allowing us to keep us making Agenda better. And the best thing is, what you buy is yours to keep forever.
Enjoy Agenda version 14 and let us know what you think!
Alex & Drew
Ps. The complete release notes of Agenda 14 can be found here…