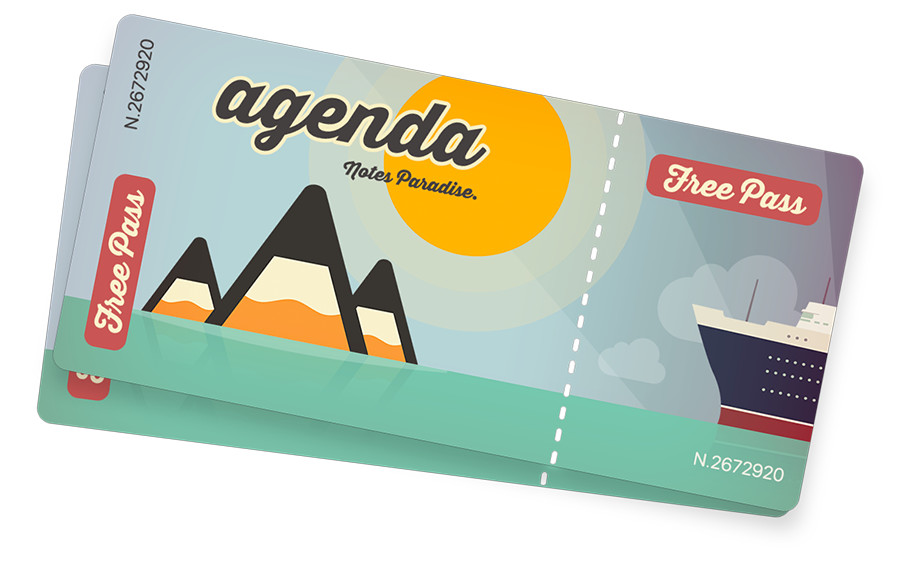 Do you enjoy using Agenda and do you think others could benefit from it as well? With Agenda Invitations, you can use your own personal link to invite friends to try Agenda. If they take you up on the offer, and later purchase the premium features, they will get an extra 6 months on their premium feature unlock. What's more, you will also get 6 months extra unlock every time someone purchases having accepted your invitation. Everybody wins!
Inviting someone to try Agenda
You invite a friend or colleague to try Agenda by sending them your personal invitation link. If they click the link, Agenda automatically registers that it was you who gave them the tip. If they later decide to buy the premium features you will automatically be notified in Agenda that you have earned your 6 bonus months.
Creating your invitation link
If you do not yet have an Agenda account
In order to obtain your invitation link there's only one thing you need to do: create an Agenda account. Simply go to the Agenda preferences, select "Account" and create an account (or log in if you have one already). When signing up for an Agenda account you will receive an email asking you to confirm your email address. This same email will also contain your personal invitation link. Simply copy it from the email and paste it in an email or post it on your social media.
Tip: Creating an Agenda account offers more than just the ability to invite others to try Agenda, it also serves as your log in to the Agenda community, allows you to stay up-to-date if you opt-in to our newsletter, and unlocks any premium features you have purchased on your other devices.
If you do already have an Agenda account
If you already have an Agenda account, you can obtain your link in two ways:
Go to the Premium Features overview in Agenda; it will contain a "Spread the Word" section that allows you to create an email or post to Twitter, Facebook, etc, using your invitation link. Of course, do make sure you are logged in to your Agenda account in the preferences first.

2. Alternatively, visit
https://accounts.agenda.com/referrallink
and log in with your Agenda account, after which you can copy your invitation link from the webpage.
Note: Your Agenda account is only used for the purposes mentioned above. We never collect or store your notes on our server, These will always be stored in your personal iCloud or Dropbox account. Neither us, nor anyone else can access your notes. Nor do we track in any way who you invite to try Agenda, or do we send them any unsolicited emails or spam.
---
Trying Agenda using an invitation link
If someone sends you their personal invitation link to Agenda there's only three steps to follow in order to claim your 6 months bonus if you later decide to buy the premium features.
Download and Install Agenda, either from agenda.com or from the Mac or iOS App Store.

Open the link that was sent to you in your web browser and click the button "Register for Bonus". This should open Agenda and play a small animation to show you that you have made it to the Pencil Islands and that you have successfully registered for a 6 months bonus if you decide to purchase Agenda's premium features.

Explore and Enjoy Agenda!