Hey guys, since I can't create a topic (I just created this account, this may be the reason), I'll ask here, and hopefully someone will see.
How can I create something like (this is from NotePlan3).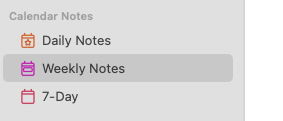 Weekly notes and daily notes. This is something I really like in NP3, but, I'm trying to keep everything under the same roof, in this case, Agenda.
Thank you!