For various reasons I have multiple calendars that sometimes share the same events. So in a calendar focused app like Agenda I can therefore see the same event multiple times.
Fantastical for Mac has this feature to combine identical events into one. My feature request would be to add this feature to Agenda as well.

The challenge would probably be to decide which event get's the actual link to the note and what happens if the events somehow change and are not identical anymore.
Agenda: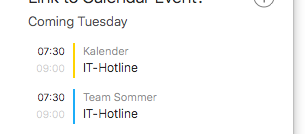 Fantastical
Sidebar:



Main View: