You've might have already seen or even tried it, we're thrilled to have launched Agenda 8.0 for iOS and iPadOS, introducing Apple Pencil support. Even before Agenda for iOS was released just over a year ago, we started getting requests to add support for Apple Pencil**. We are thrilled to let you know that you can now sketch out your ideas, write down your thoughts, and literally draw your conclusions using Apple Pencil, directly in Agenda.
This is just the first step; it is simply impossible to deliver everything you have asked for in one go, things like handwriting recognition, inline drawing, aren't yet possible today. But rest assured, we plan to continue to deliver more possibilities in this area, gradually over time. Be sure to keep an eye on this post and invite you to leave your feedback there when it comes to what you think is missing or can be improved ***.
This release also brings a new premium feature: the ability to annotate images attached to your notes. Just tap-and-hold the image, and choose Annotate in the popover menu, in order to draw on top of the image. Add remarks, highlight important aspects — you can draw whatever you wish.
We hope you like the new Apple pencil support in Agenda as much as we do. After you've upgraded to iPadOS 13.1, make sure to give it a try! Note that if you don't see the option to add a drawing under the plus menu in the bar above the keyboard, here are a few things to check…
**) Talking about popular requests, this topic was viewed more than 15k times, and has over 200 replies from more than 80 different users, wow, thank you for the many suggestions and so much great feedback!
***) For example, we have just submitted the 8.0.2 update for review, which will allow you to grow your drawing dynamically if you need more space, allowing you to scroll if needed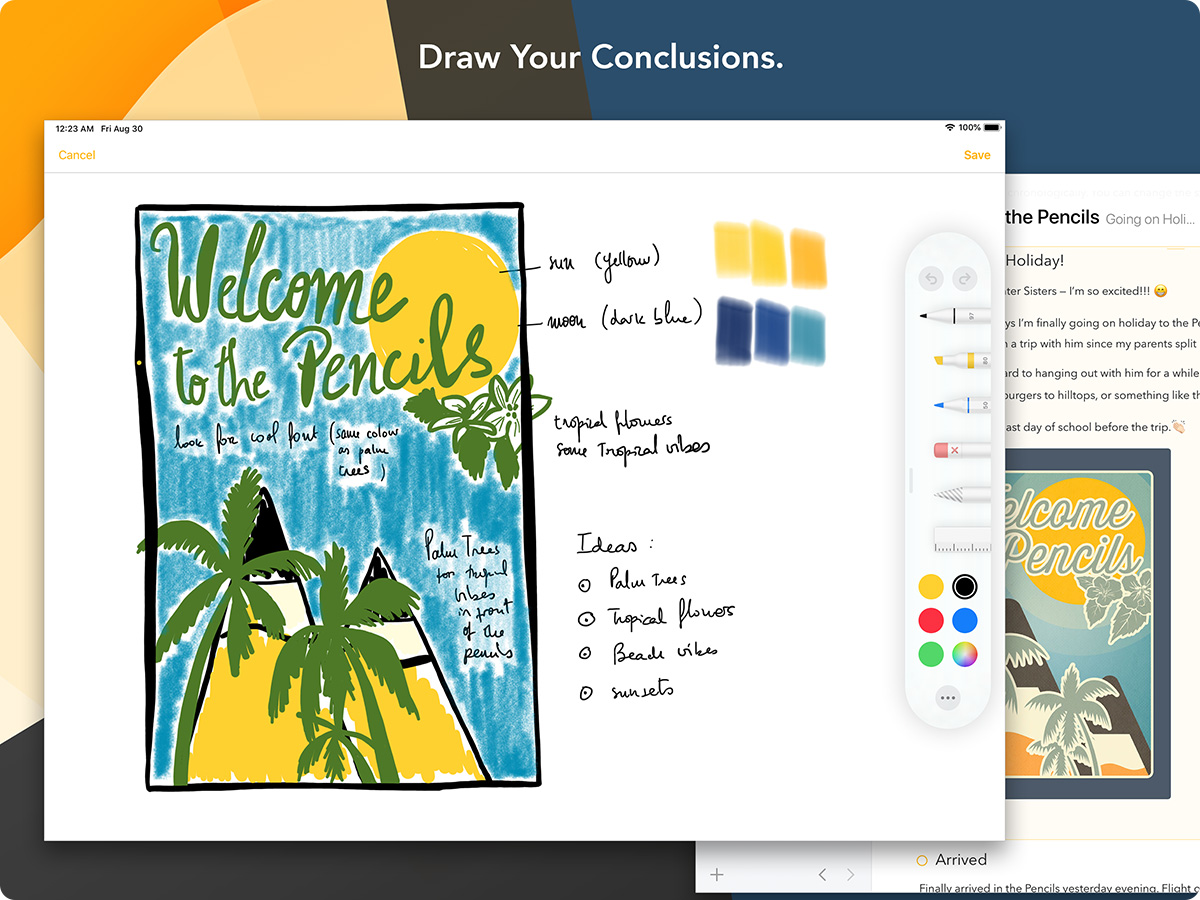 Introducing Apple Pencil support on iOS devices running iOS or iPadOS 13.1 or higher.
Update: If you haven't done so make sure to update to Agenda for iOS 8.0.1 which improves compatibility with iOS13.1.