I'm finding it very distracting having to navigate to the project I want a note to be in, before I can create the note.
It would be great if the + sign for create new note had a menu similar to the one that appears when you try to create a note in On the Agenda: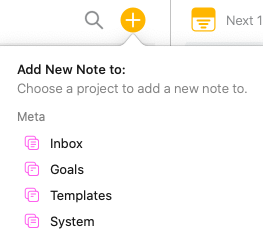 Something like:
Add New Note to: [name of current project]
or choose a project to add a new note to:
Why? When I am planning and reviewing my day, I am often creating notes based on what's in my calendar and in my emails, so I'm not in the relevant project. Also, when an email comes in through the day, I often want to create a note in a project that I'm not currently in.