Please read these instructions on how to join the beta program if you'd like to get early access.
New
It is now possible to edit the displayed date label in the calendar popover as a way to quickly jump to a given date. Both absolute dates (e.g. "22 jan 2018") and relative dates (e.g. "in two weeks", or "next tuesday") are supported (see screenshot below).

Agenda now restores the previously selected project and focused note when starting the application.

Clicking the category headings in the projects sidebar now toggles between their collapsed/expanded state, as does clicking the header of the recently edited/related notes sections in the related panel.

We added an item to the Note menu to remove the assigned date from a note directly without the need to go through the calendar popover.

Starting a paragraph with three tickmarks will change the style to preformatted.
Improved
The details that are automatically imported from Calendar events when creating a new note are cleaner and no longer include dial-in details for meetings.

When copying a note or the selected text from a note, the plain text copied now contains the complete URLs (even when displayed in shorter form inside Agenda).

Agenda now automatically shortens Facebook, LinkedIn, and WikiPedia links, while also being less aggressive when it comes to hiding URL parameters that can contain valuable information. Non-web URLs no longer hide the URL scheme.

Today's date is now better visible in the calendar popovers.

Agenda now supports an additional URL scheme, agenda-notes, that can be used on systems where the default agenda URL scheme opens the system calendar app. To learn more about x-callback-url's and how you can use them to automate Agenda, see: Import, Export, Sharing, and Automation

Improved resolution of images in PDF print outs.

Various user interface tweaks and security improvements.
Fixed
When using the light theme the show/hide button in the Projects sidebar was very difficult to see, this is now fixed.

More reliable behaviour of the back and forward history, and restoring of the position when switching between projects.

Several stability improvements.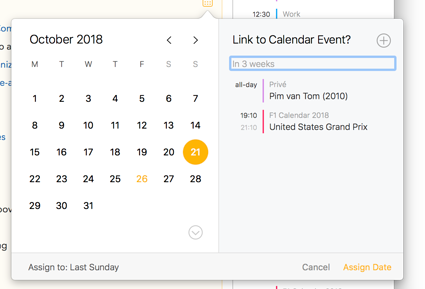 Quickly jump to a date in the calendar by typing an absolute or relative date.