What I did: I purchased the premium features so that I could link notes to calendar events (and for the other premium features.) I started using Agenda in earnest yesterday.
What happened:
Agenda on MacOS currently shows 2 events from my Exchange Calendar in the next week. Agenda on iOS shows 21 events from my Exchange Calendar over the same time period.
What I expected:
I expected the two calendars to be similar so that I could link notes to events. iOS is giving me about what I expected. The Mac is not showing my events. It is showing 2 events from my Exchange Calendar, 8 events from a different Exchange Calendar used to schedule big events, and I have the personal calendars turned off at this point.
Side question - Can I "link" a note to an event without creating a notification to everyone else involved with the event? Are the notes in Agenda separate from the notes field in the Exchange Calendar?
Things that might be helpful to know (Agenda version, OS and model, etc):
Agenda version 9.3.2 - Mac App Store, Macbook Pro 16 inch running 10.15.4
    I believe I have the settings correct: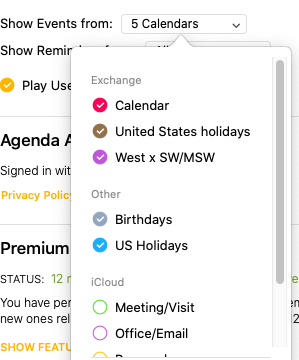 I have verified Agenda has access to that Calendar in the System Preferences pane.
Thank you.